1000 PUBLIC BICYCLES IN ŁÓDŹ FROM NEXTBIKE POLAND
01-02-2016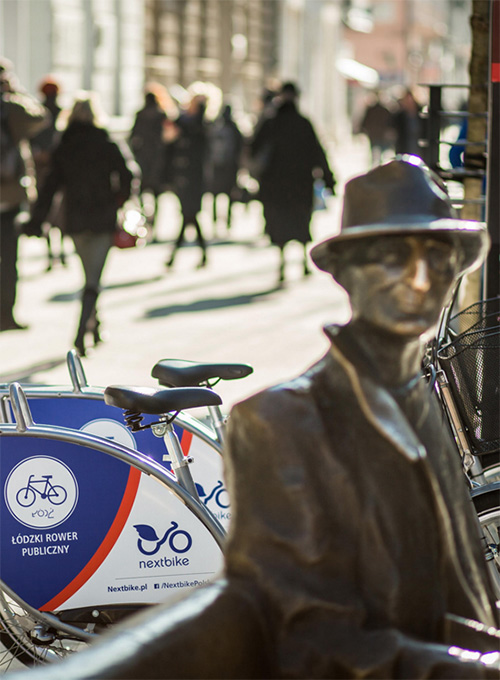 Nextbike Poland, a LARQ Group Member, to deliver Łódź Public Bikes
Nextbike Poland to build 100 stations for 1000 bikes in Łódź
The contract is worth 12.3 million zł
The plans for the next two years are to launch and develop at least several bike city systems in Poland - the estimated total value of the contract exceeds 100 million zł
On 29 January 2016 Nextbike Polska Sp. o.o., a LARQ S.A. Group member, (WSE-listed mother company controls a 75% stake, with the reminding 25% owned by a German partner, Nextbike GmbH), following the successful tender, signed with the Municipality of Łódź a contract to build and operate a bike system under a name "Łódź Public Bike".
The contract provides for construction of 100 stations and delivery of 1000 bicycles. The contract is worth 12.3 million zł, and the system is expected to start in April.
The Łódź tender is the 24th tender won by us since the start of Nextbike Poland. We are the undisputed leader of the Polish, dynamically growing market. However, it does not mean that we rest on our laurels. On the contrary - we are still developing to provide ever-better and innovative services. Last season, for example, we added very well-received tandems and bikes for children. This spring in turn, the extended system in Lublin will include unmanned stations with a bikes for children up to 6 years old – an innovation by Nextbike not only in Poland but also in the world - says Tomasz Wojtkiewicz, CEO at Nextbike Polska Sp. o.o.
Nextbike Poland won the last two tenders. In addition to Łódź, the company also won proceedings in Lublin, worth 6.9 million zł, for the development of the local cycling system. Currently, we are waiting for the announcement of tender results in Poznan, and in a dozen or so months – for new tenders in Warsaw, the Tricity, and the Silesian agglomeration. Acquisition of new contracts is the company's priority. At the same time, strong emphasis is placed on increasing the number of commercial stations, financed by sponsors (such as shopping centers, developers and office park operators), as well as an on boosting advertising revenues - says Mikołaj Chruszczewski, Member of the Management Board of LARQ SA, owner of 75% stake in Nextbike Polska.
Nextbike is one of the first companies operating in Poland that support a global trend "sharing economy". The solution also corresponds to the increased demand for sustainable transport in cities, as a result of the civilization change we undergo (car traffic slowdown or elimination of urban congestion with private cars). Nextbike will also indirectly be a beneficiary of EU funds for Poland for sustainable and intelligent transport and low-emission economy. The company expects that in the next two years Poland will launch new and expand existing bicycle systems for more than 100 million zlotys.
About Nextbike Poland
Nextbike Poland is the undisputed number one in the Polish market of urban cycling systems, both in terms of the number of bicycles (75% market share), and the value of completed contracts (85% market share).
The company has won 24 of 30 tenders settled since 2011 and is the operator of 10 of the 16 operating systems in Poland, among others, Warsaw, Wrocław and Poznań.
Nextbike Poland in figures (as at 30 Nov 2015, that is the end of season 2015):
supplier and operator of 10 out of the 16 systems operational in Poland
5841 bikes
481 stations
more than 655 000 registered users
nearly 9 800 000 rentals
About the market
In 2007, there were 25 different systems operational across the planet, with with 15 thousand bikes (source: Pedal Driven Innovation: Why investors are riding the bicycle sharing market, January 2015). In 2014, the numbers amounted to 700 systems and 700 thousand bikes, respectively. In Poland alone, between 2013-2015 the number of bicycles in urban systems has more than doubled, up to 6.9 thousand bicycles.
-------------------------
LARQ SA is a Polish holding company listed on the main market of the Warsaw Stock Exchange, active in the field of innovative media, new technologies and infrastructure. The pillars of the company's business are dynamically developing companies with a dominant position in their respective market segments. These include:
- Nextbike Poland - Poland's largest provider and operator of urban cycling systems. The company operates a fleet of nearly 6 thousand bikes in 10 cities in Poland and has a database of over 650 thousand registered users.
- Synergic - a leading national operator and owner of a custom outdoor advertising. Advertising clients of the company are exhibited on almost all Polish airports and key bus stations. The company is the exclusive operator of advertising space on city bicycles and subways in Poland's major cities.
- Brand24 - owner of an original tool to monitor online content, sold as SaaS (ang. Software as a Service). The company is the leader on the Polish market in its product category. This year Brand24 successfully launched commercialization of its unique solution in the global market.
-------------------------
For further information:
Katarzyna Sadowska
CC Group Sp. o.o.
Phone: +48 22 440 14 40
Mobile: +48 697 613 020